If you have ever visited McCarran International Airport in Las Vegas or Schiphol Airport in Amsterdam, you are bound to find a machine that is commonly referred to as a slot machine. While we all know what a slot machine is and how essential it is used for gambling at casinos, many of us have wondered what it is doing at an airport disguised as airport slots.
The process of figuring out the same requires a few points that go into detail about all that you need to know about these slot machines. Since they are specific and to the point, you are bound to know more. So are you in the mood for learning something new today? If the answer's yes, then go ahead and read the following.
Is anything different about airport slots?
One of the biggest questions on everybody's mind about airport slots is if it is any different from the usual set of slot machines that we find at our favourite casino. Considering how valid this question is, it is important to understand the difference. And unfortunately, the difference lies with the RTP.
While an online slot can offer you a good RTP or Return to Player, airport slots cannot. The usual RTP ranging from 90-96% is not what you find at the airport, meaning that you can expect to either receive low returns or not receive anything at all. This is commonly seen as a disappointing move if we are to consider the same without looking at why airport slots are present in the first place.
Why do we have slots at airports?
Slots at airports are far from being the usual entertainers that you find at casinos. These slots are usually present to help players kill time and not specifically to help them win money. However, it does offer a chance to win it, provided you are lucky. Moreover, airport slots are not competing with their excellent counterparts at offline casinos or even at online casinos featuring slots like rainbow riches and so on.
It is also fairly understood that nobody will travel to an airport to play slots when you have several other options. Hence, these slot machines are here for fun and that is all that you need to view them as.
Run by third-parties
Airport slot machines are run by third parties after entering into deals with airport management. Due to that, you cannot expect to find loyalty rewards or VIP programmes with these slots, although they can offer jackpot rewards, provided you manage to win the same.
While many get confused at the lack of VIP programmes with these slot machines, it is important to understand why. Running a VIP-styled program at airports may not be ideal, moreover, it may not be possible. You visit an airport to travel and not enjoy your stay by winning rewards with slots.
Airport slots vs online slots: Should we really be comparing them?
Comparisons between slots are always going to help you fine-tune the process and pick the one that you prefer the most. Since airports offer free wifi, many have gone on to compare online slots against airport slots. But how exactly does this comparison fall out and is it a valid one?
Well, for starters, online slots tend to feature games like starburst and thus provide you with a lot more options. And on the other hand, airport slots are not meant to keep hitting you with options. Their low RTP and other critical features aim to help you experience slots at airports rather than providing the feeling that you get from an online casino or an offline one.
Considering these differences and how slot pay lines also take things forward, you need to keep in mind that airport slots are meant to be taken as a fun way to forget the fact that your flight will take hours.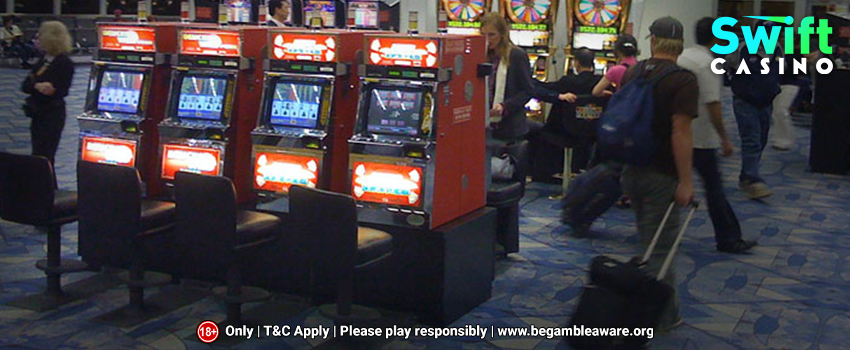 What to keep in mind while playing airport slots
Now that it is established that airport slots are way different from the rest, including mobile slot and video slot, it is time to understand what to keep in mind while playing them.
Being more cautious while playing airport slots will certainly go a long way in making things seem right. Because it is something that you need not be taking seriously, you should not spend a huge bankroll trying to chase jackpots or other kinds of wins.
The idea is to have fun and losing money at the airport while you wait for your flight does not sound like a good way to start your vacation or business trip or even end the same. Have fun with these machines and only bet a small share of your money.
If you are someone who has never played slots or happens to know someone who hasn't, getting to play slots at the airport could be the ideal way to begin things. While you need not go all out with the bankroll, you can always understand how the process works by merely exploring one step at a time.
Since stepping right into the mix with online slots or the different versions of video slots could be asking for a lot, it is best to experience airport slots first and then try out different versions that are capable of offering more.
Conclusion
Playing airport slots could be viewed through the different points that we have mentioned so far. By understanding them, you are bound to figure how these slots should be played and how they should not be played. Considering all that comes with this game, it is safe to switch to play a specific way and avoid risks that are usually associated with gambling.
So understand these points and the next time you visit an airport, make sure to experience airport slots.