Many land-based and online casinos have placed side bets on their Blackjack tables in an attempt to attract more players to play Blackjack, and also to increase their margins. Typically the innocent-looking side bets involve a very small wager (typically only a dollar), and they generally have payoffs that are better than the normal even-money Blackjack payouts. Here we will see some of these side bets and what they comprise of?
What exactly is a Blackjack Side Bet?
A side bet is an extra wager made at the start of a round, at the same time as the principal bet. There are different types which include your hand and the dealer's in some situations. 21 + 3, Perfect Pairs and Insurance are the three most popular and well-known side bets. If you're playing online Blackjack, such as Blackjack Perfect Pairs, side bets will also be placed by placing chips opposite the main betting box on the table in the corresponding side bet box.
If you think it's more likely that the first two cards are going to be the same, again, you should back the claim. The same dynamic precedes the positioning of each of the available Blackjack side bets.
Why are Blackjack side bets offered?
Blackjack is a game with a low house edge record and that's one of the reasons why gamblers want to advocate advantage play. What is the case with side bets in Blackjack then? Why fix something if it doesn't break? The common assumption is that they are supposed to improve the likelihood of success for players. Others find this incredibly hard to imagine, but some others seize the opportunity to spice up their wagering routine with fun.
How to Place Blackjack Side Bets?
To place wagers of this nature, you have to first find a casino that will allow you to place side bets. You can visit the Blackjack lounge of Swift Casino and get an experience of playing Blackjack with side bets.
Whenever you find a suitable online or live casino Blackjack table of your preference, you'll need to take your seat at an RNG or live table. There will side bet places for Blackjack where you can put your chips on the proposition that you think is worth taking. The wagers in play are usually displayed in plain sight elsewhere-the felt or on the viewport's left-hand side. You must verify, most certainly, what are the winning conditions in a certain wager before you opt-in.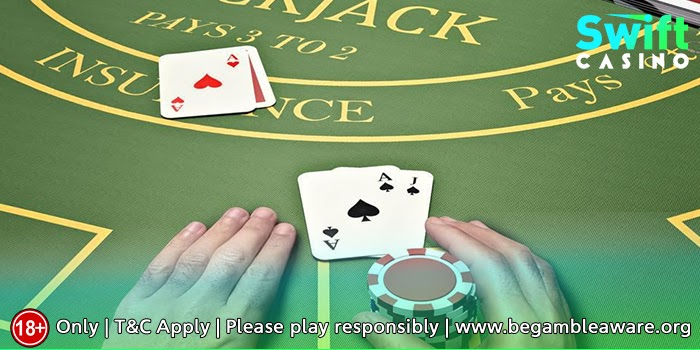 List of Some of The Blackjack Side Bets
You are sure to find them in the top online casinos that are part of the regulated online casino sites. Discoverability, convenient to follow rules, the low edge of the house and high payouts are qualities you need to notice. We will shortly discuss each bet. The exact odds will, however, vary from game to game, and casino to casino.
21+3
The 21+3 side bet in Blackjack is popular these days. The short and simple version of it is that if the dealer's face-up card and your first two cards are flush, square, three-of-a-kind or double, the winning terms of the bet are met. You'll benefit from the low house edge if you want to stake this plan – just 3.24%. That's easy to deduce, as long as payout typically is 9 to 1.
Flush
A Flush is three cards of the same suit, e.g. a King, diamonds 10 and 6. This is the lowest-paid 21 + 3 side bet and gives 5/1 odds.
Straightaway
A Straight is a combination of three cards in a set, for instance, a 2,3 and a 4. Just the numbers are considered here; a straight hand can consist of different suits and colours. Offering the second-lowest reward, the odds at 10/1 are double those of a standard flush.
Three Of a Kind
The side bet of three-of-a-kind is put on the result that the upturned card of the dealer and the first two cards of your own will both be of the same rank. For starters, if all three cards were Jacks or 6s, no matter what suits or colours. A good side bet of three-of-a-kind pays out 30/1.
Flush Straight
A straight flush is three numerically arranged cards of equal suits, such as 1 diamond, 2 diamond, and 3 diamond. The odds are 40/1.
Suited Three Of A Kind
This offers the biggest payout, with odds at 100/1. It consists of three cards that are of the same suit and number.
Royal Match
Royal Match is a bet that can be found in most online Blackjack variations. It has a laudable Blackjack house edge of just 3.7%. The purpose is to get two suited cards, preferably a king and a queen. The payout for two suited cards is 5:2, while one appropriate King-Queen earns 25 to 1. A classic stake makes Royal Match one of the most player-friendly bets and is the favourite of many punters around the world. You should be mindful that the percentages and payouts mentioned above depend on how many decks make up the shoe and the operator itself.
Insurance
This wager is a fundamental one. You back the result that the dealer will be showing a Blackjack. Players of insurance are paid out 2:1 on their assets should this happen. If the dealer's face card is one of these, the opportunity to take insurance becomes available: ace, ten, all face cards. The house edge on this one is not the strongest.
Super Sevens
This wager is applicable only if you catch lots of sevens. This side bet typically refers to situations where the player has between 1 and three sevens. One seven wins only if the first card is dealt with the player. In this scenario, the compensation is 3 to 1. From there on, based on whether or not the sevens are sufficient, the player will earn a surprising 5,000-fold bet. Owing to the incredibly high opportunity, bets are typically capped at $1.
Lucky Ladies
If the first two cards of the player add to 20, and they have placed this side bet, they get paid 4 to 1. The highest payout possible is 1,000:1, but it is extremely hard to take advantage of.
What Is The Worth Of Blackjack Side Bets?
The advantage of Blackjack side bets is that they usually only need a small bet, but the payouts are larger and better than the regular bets. One of the biggest concerns the players have is that you're not going to leave the table with more than even-profit. This is where side bets may have an advantage, but there is also a strong risk that they won't pay off. However, every round is based on an aspect of chance, and side bets are no different. Plus, side bets will bring an extra dimension to a more enhanced online/live casino experience. Side bets provide a faster-paced game for players who are bored with making a bet at a time, waiting for a draw.
If you're a player who wants to take chances, likes higher payouts and a multi-layered online Blackjack experience, side bets are definitely worth a try!