Slot machines have been attracting players all around the world since 1890. While over time the games evolved beyond comprehension, from mechanical contraptions that the bartender required to pay some winnings to today's high-tech video slots, the slot symbols have remained surprisingly constant. A lot of this comes due to tradition, and it's also a perception that players prefer consistency. But that's not to say there's a lot of creativity in the casino business. Where there is a theme-based slot, focussed on a location, character, or artist, the slot symbols are often new.
Oldest slot symbols
Cards, and Poker, in particular, were popular in old saloons, much as fistfights and hustles. So it didn't come as a surprise when the very first rudimentary slots used card suit symbols. Although the suit slot symbols scarcely exist now, high denomination cards — nine, ten, jack, queen, king, and ace — are still common in all kinds of modern slots, although they are typically low in value relative to the main theme symbols.
The Poker icons persisted on the gritty antique machines until the one-armed bandit was invented by Charles Fey, a native of San Francisco. He cut the reels to three, keeping only three-card symbols — diamonds, spades, and hearts. Fey also added horseshoes and the Liberty Bell. Horseshoes were a sign of good luck, while the bell was a sign of American freedom. The number seven soon became popular as a new symbol. It was deemed a lucky number by many gamblers, and the sad old horseshoe was tossed out.
Fruit slot symbols
Quick jump to the 1900s, before the humble slot machine, was outlawed by a crackdown on gambling machines. To get around the prohibition, the Bell-Fruit Gum Industry produced slots that pleased the thrill-seekers who wanted to spin the reels and paid in gum instead of dollars.
Now you can see where the famous fruit slot symbols, which are still so popular today, started. Cherries, lemons, melons, pears and oranges are all very popular at casino slots. And what does the iconic bar mean for slot machines? The bar came out of the notion that it looked like a gum bar!
Modern slot machine icons
Although some old fruit and card slot symbols still exist, new UK slot games have an amazing variety. With hundreds of different slots to play in every casino, particularly online versions like Swift casino, new games seem to be wildly different from the crowd. Even if some stick with a common theme but a lot of them are off the wall.
Types of Online Slot Symbols
Nowadays, online casinos offer you limitless opportunities to play your favourite games without having to go to a land-based casino. Slots have moved online, and there are more games than you could ever try. In reality, things can often get a little confusing. Learning about reels and slot symbols is getting pretty hard because there are no real reels left. Even, in truth, this was a win for the genre in many respects. New software design technology enables developers to go crazy and thrill us with outstanding visuals and thrilling effects.
Classic slot symbols are still out there, but they are challenged by imaginative characters that give an unparalleled range of genres and styles. One can't cover all of the slot symbols that you might experience. But if you're serious about playing online slots, you can read about the various types of slot symbols that you might come across.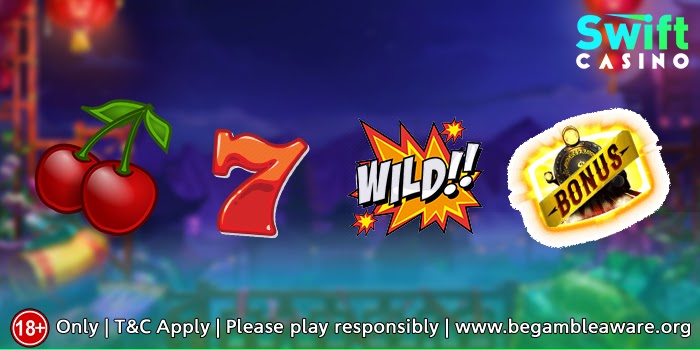 Standard Slot Symbols
Many of the online slots currently use card-based slot symbols. In this respect, they're moving back to the origins of the game that originated from the early poker machines. However, video slots appear to be very creative with higher-paying icons. They normally reflect the theme of the game and feature eye-catching visual effects. There are all kinds of 3D effects and even animations that can be found in the regular slot game icons.
Wild Symbols
Wild symbols are a special form of a bonus which is very preferred by the vast majority of casino players. Many 5-reel online slots now feature a symbol of this nature. Wild symbols can stand in place of any other symbol when the game checks for a winning combination. This means they're counted as a joker. Wilds improve the chances of winning significantly, but you can verify if they will appear on all reels, or only on particular ones.
Since online slots are continually changing, there are now several kinds of wilds too.
Expanding wilds

Walking wilds

Sticky wilds

Multiplier wilds
Scatter Symbols
Scatter symbols are another common bonus feature most video slots have. Scatter is generally among the rarer signals on the reels because it's tougher to reach. They have the benefit, however, that they don't have to be part of a payline to cause their influence. The result is typically different from slot to slot. Scatter is typically synonymous with extra free spins. This is one of the favourite features for online players, and this makes scatter slots quite popular.
Bonus Symbols
Bonus symbols are somewhat similar to scatters, but they activate a special bonus feature. In certain cases, though, bonus symbols are directly related to the general style of the slot. Their rules vary considerably from game to game.
Multiplier Symbols
Multiplier symbols are amongst the rarer bonus features you may get. They function exactly as they mean– multiplying the profits. Multiplier symbols can land on reels much as every other symbol, but they boost the number of payouts on winning lines by 2x, 3x, 4x, or even 6x.
Stacked Symbols
Stacked icons taking up more room on the reels. This raises the probability that they will become part of a payline. Stacked symbols may be standard, in particular, certain slot bonus rounds substitute one form of the standard symbol with stacked equivalents. The most valuable stacked symbols, though, have an extra advantage.
Sticky Symbols
If you manage to get Sticky symbols on the reels, they stay stuck for some spins. Such a benefit is more useful to the player if the sticky sign has any beneficial properties. For example, Sticky Scatters can give you a few extra spins.
Discover the slot symbols for yourself
Now that you know where the symbols of the slot machine originated and what they represent, it's time to test them out for yourself. When you're familiar with how all this works, you should try your luck and play for real money hoping that the icons may fall in your favour. Good luck!